It was a little scary driving my mom home this Memorial Day weekend. I'm wondering if there is some sort of curse on us with all that is going on, you know. While there I drove out to the cemetery to clean my father's grave. I don't know if it is tradition to clean graves for Memorial Day, for me, it was just coincidence. Just time for Mom to go back and since I was in town and knew it needed to be cleaned, I had to get that done.
While driving out there, on the highway shoulder was a man dragging this huge wooden cross and about 30 people following him. I don't know who these people are or why they do it, but they are really begging to have an accident.
I wondered if these people are suffering. Or recruiting. It seemed a bit blasphemous. Strange. Especially on that day.
Anyway. The cemetery is in Grand Coteau, Louisiana. It is behind St. Charles Catholic Church which was built in the late 1800′s.
It is not the town where we grew up, just a nearby town. In my town the graveyard was full and there was no more room for any new graves, so we had to find another place. My husband's family being in the funeral business suggested this place, it is where their family members are, so they must know something, right?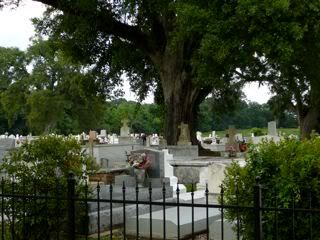 It is a gated community. No worries about grave vandalism as with the cemetery my dad was in (we moved him recently).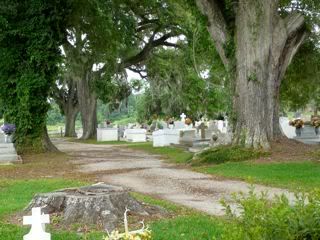 There are moss covered treed pathways. A peaceful place.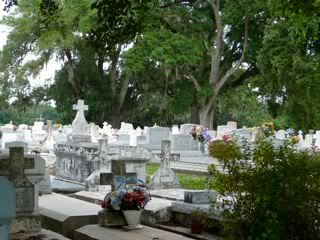 And see, they do bury people above ground in Louisiana. Some of them. They do this because the water table is high in South Louisiana. Dig a hole, you hit water quickly.
That is the older part of the cemetery.
My family is in the new section. It looks pretty empty, but most of these plots are sold. The owners just haven't died yet. It is too soon.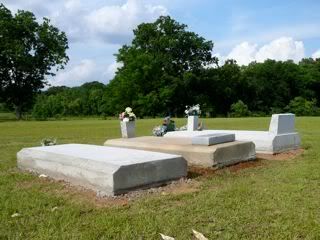 Way way too soon. Candace and Shane are on the right with the taller headstone (two in one vault), my dad in the middle, and Lorne (Pumpkin) in the yet unmarked grave. All four of them should still be alive. Should.
I don't write this stuff for sympathy, in case you are wondering. I don't like that, sympathy. Or pity. I pack light, remember?
I do pity those who abuse alcohol or drugs. And those who live with them. It is a miserable existence. I am blessed I do not have this disease.
The reason I am writing this is because three of these deaths were related to alcohol or substance abuse. (Some would count Candace, too, although she did not have drugs or alcohol in her blood, she was partying most of the night before her accident).
You use, you lose. All of it. And the people who love you also lose. Because once you check into this place, you are not coming back.